Features
Tomei - Arms M8260 Turbine Kit Rb26Dett
This is the largest size bolt-on turbo for this output characteristics at engine speeds. Reaches full boost at around 5000rpm at somewhat higher range, but from there achieves fierce acceleration with the output characteristics that almost makes you forget that it is a bolt-on turbo.
SURGE CONTROL
When driving the car on the street, at times the stock turbo can produce unpleasant surging at higher speeds. We have designed our Turbos specifically for the application to resolve this matter.
MAINTAINING POWER AT HIGHER TUNING
With the stock displacement, you can expect to see good power from 6500rpm and higher. But with the increase in the engines displacement, even more potential gains are possible.
AVAILABLE IN 2 SIZE OPTIONS
The M7655 works well to suit the RB mid range characteristics, whilst still being a good performer up to the higher power band range. The M8260 however, even being a bolt on application will deliver the punch of a full peak power type of turbine kit.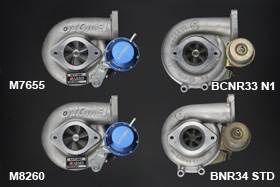 Reviews