Posted by Eric on 14th Sep 2014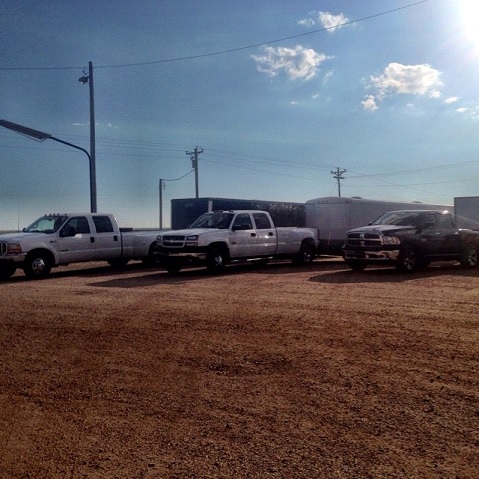 After arriving in Seattle the crew finished a few things on the car after getting it unloaded, then headed out to practice. This were going well untill the final practice runs before qualifying started. The car had died and wouldn't re-fire, turned out to be an alternator issue again. We are creating so much heat in the engine bay with our giant Turbo By Garrett GTX4502r, that a stock Camaro or even Chevy truck alternator cannot handle it. We did get it back up and running and headed out for qualifying.
During the first qualifying run after putting on a fresh set of Falkin Tires Pat has some issues with traction, but kept on it. Entering extremely high on the bank with a lot of speed. After braking early to come off the bank in to power alley and the car just slowly kept rotating and there was no saving from a spin, resulting in a Zero for the first run. Turns out the waste gate vacuum line had come off and the Turbo By Garrett GTX4502 was making about 30 pounds of boost which would put the car at the 1500 horsepower mark. After completing the 2nd run Pat qualified 7th, then after all the others drivers have completed he only moved down to 13th.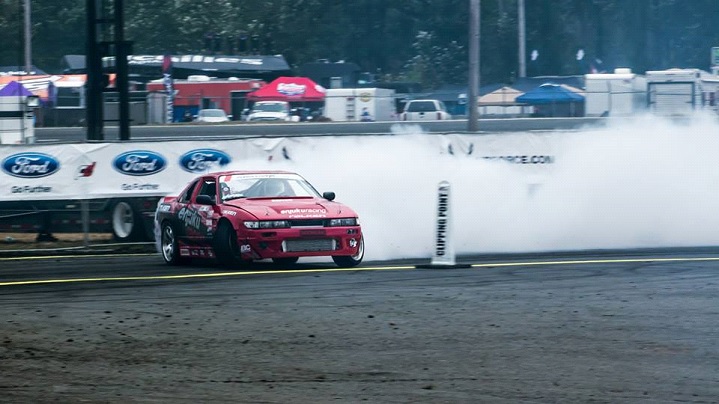 Friday night Enjuku Driver Jeremy Lowe qualified 1st in top 16 for FD Pro 2, though he put his car in to the wall, his crew was able to quickly repair it and get back to the track in time for his first round. Jeremy battles his way to 3rd place for a podium finish!
Saturday morning was tandum practice and Pat was looking and feeling good. His lead runs were very consistent, and for his following runs; speed was on point and no issues maintaining proximity to the leading car. Competition started and Pat was leading first against Matt Fields. Pat made it into 4th gear and entered nice and high on the bank, and was exactlty where he wanted to be, came off the bank smoothly into power alley, but could hear Matt coming closer behind him and started to feel the car shimmy and push awkwardly off the line. Pat hoped to ease up a little and make the next transition with feeling no steering input, instead both wheels turned in on them selfs and the car came to a stop. Tow track brought the car back to the pits and the crew found that one of the knuckles were busted. Unfortunately with only 5 minutes to fix the issue, the crew was unable to complete the task, and Pat was unable to return back to competition.
The crew did repair Pats car that day, and Pat was invited to a private drift even at Pats Acres Go Kart track in Portland for the filming of Ryan Tuercks show, "Tuerckd". That private event was a blast! Getting to drive the Formula Drift rocket ships on a small go kart track competing in a bunch of fun games, challenges and even a 12 car train. Pat ended up winning the table game (drifting into a parallel parking spot getting as close as possible to a table.) So make sure to watch that episode of Tuerckd on youtube soon!